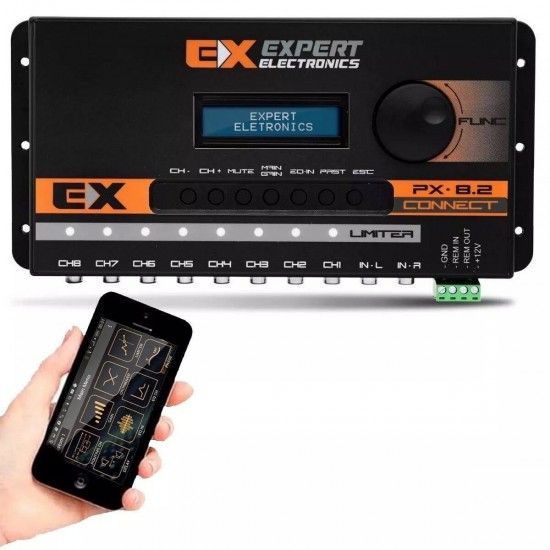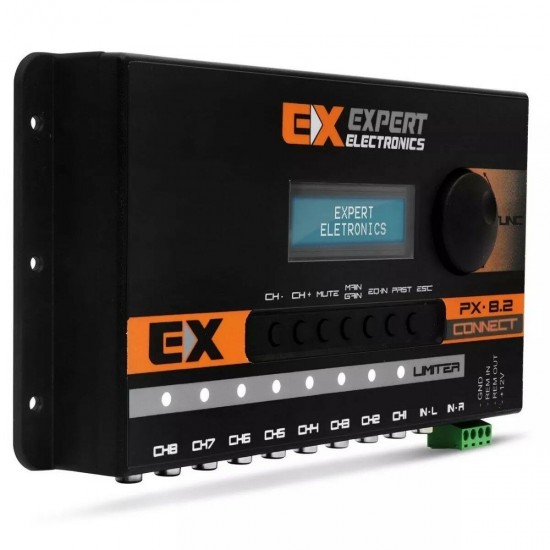 New Hot
Banda Expert PX8.2 Connect Bluetooth 8-CH Crossover Digital Audio Processor EQ
Expert Px8.2 HI Connect Bluetooth Processor (input via FIO)
The Evolution with control through TABLET OR SMARTPHONE APPLICATION
Control all the details of equalizing the sound of your car and enjoy what your project has best with the functions and versatility of the Expert Eletronics Banda Crossover PX-8 Mesa, which acts with maximum efficiency as equalizer and audio processor.
Featuring 8 fully customizable output channels, this crossover allows you to control gain, delay and various other attenuations in a simple and efficient way, simply select the channel and use the rotary encoder to make the desired adjustments.
So with total efficiency you define the equalization adjustments making the difference in the performance of your professional automotive sound project, accompanying everything through the blue LED digital display and 24-bit resolution.
Technical specifications:
-2 Inputs HI input with automatic remote.
-Equipment input with 15 bands spaced in 1/3 octave.
- Parametric equalizer with 3 independent bands per channel.
-crossover with Butterworth, Linkwitz-Riley and Bessel filters, with attenuation of 6 to 48 dB / 8º.
-Delay independent per channel.
-Limiter automatic or manual with Threshold, attack and Decay.
-Mut independent channel.
-Preset with all settings.
- Remote output with 300 m.
- Power tolerance from 9 to 16 Vdc.
-Interface of communication via Bluetooth.
Comp. 12.0cm x 3.0cm x 1 "Wide. 25.0cm
Style
Type
Bluetooth, Crossover, Equalizer
Stock:

In Stock

Model:

PX 8.2 CONNECT

Weight:

0.00kg

UPC:

789153300018

MPN:

PX 8.2 CONNECT
Expert Eletronics